Why are our Emu boots selling so well? ...... read on....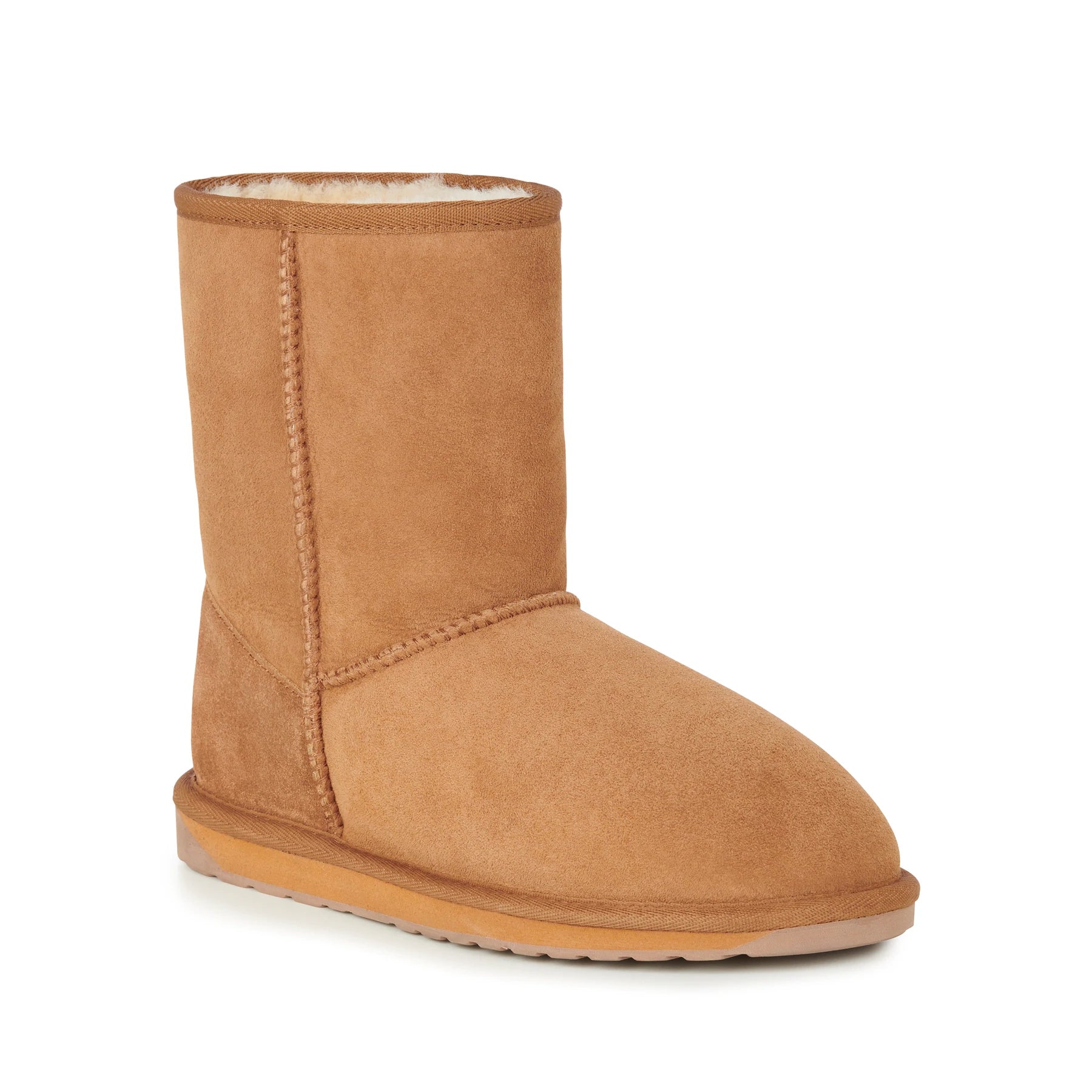 UGG versus EMU - No Contest!
But dont take our word for it,
Credit to:
https://www.absolute-snow.co.uk/pages/Website/Emu/UggversusEmu.aspx
In our opinion, Emu sheepskin boots are far superior to Ugg branded boots.  Both brands use high quality Australian sheepskin and, on first inspection, are very similar indeed in terms of look, quality and feel.  Upon closer inspection and having worn the boots for a few months big differences do, however, emerge. We have thoroughly tested both brands and listened to customer feedback and this is what we discovered.
All Emu boots have removable arch support insoles and the outer soles are re-reinforced  on the outside edge of the heel area.  Both these features help to prevent pronation (the rotational movement of your foot and the collapse of your in-step arch).  A pronating foot can lead to foot and knee pain, shin splints, achilles tendinitis and a lot worse.  The media have famously reported such incidents with Ugg boots which do not come with either of these important features.
Emu boots come with a fibre glass re-enforced heel cup, so your boots do not sag or collapse around your heel.  Ugg branded boots use cardboard but, after you have worn the boots for a few months, this cardboard can become bent or crushed if you occasionally have difficulty sliding your feet into your boots – and who doesn't after a few too many vin chaud!
Emu sheepskins are pre-treated at the tanning stage to give them water and stain resistant properties.  This means snow and water form beads and just roll or drip off the boots – instead of soaking in, staining the sheepskin and wetting your feet -  like on an Ugg boots.  This tanning process is fantastic because it produces a sheepskin which looks and feels just like any other.  The only way you can tell the boots use pre-treated is when you actually get them wet!
On a like for like basis Emu boots offer far better value for money because they are slightly cheaper but come with all of the extra features already mentioned.
You can not fool the Aussies.  At the last count only 5 retailers in Australia stocked Ugg boots but over 700 stocked Emu.
Ironically, Emu boots are manufactured in the original Jackson's Tannery – which was the home to Ugg branded boots until the name was acquired by an American company and production moved away.  So, if you like, Emu really are the original Ugg boots, only better!