Vero Moda - best ever jeans? We think so.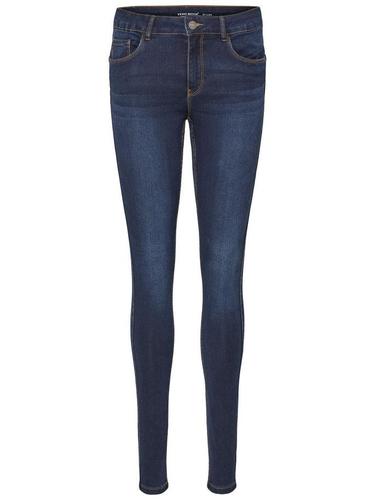 If you follow us on Facebook then you may have heard us talking about our Vero Moda Shape up jeans - we are in love! 
I myself have always struggled to find a good pair of jeans with a nice shape, a nice colour and that I don't need to take out a second mortgage to buy - I have spent £80+ on jeans which are just not right. I have worn so many different brands (and sizes!) over the last few years and have never found a pair which I love & actually enjoy wearing, they all seemed to let me down in one area or another. 
Drum roll please....and then we discovered Vero Moda shape up jeans...Game Changer! These jeans are not only the most comfortable jeans I have ever worn but they are also available in two fabulous shades, the dark denim look great dressed up for the evening & the lighter denim are perfect for daytime wear (I have both as I'm sure you've guessed!).
Available in sizes XS (approx UK 6/8) to XXL (approx UK 18/20) and in three lengths, 30", 32" and 34" perfect for anyone struggling to find petite or tall lengths. The classic style & colour of these jeans means that they are perfect for all sizes, heights & ages, just ask my family...Myself, Mumski, Aunty Sue & Granny Val all own & love a pair of the Vero Moda Shape-ups! 
Did I mention that they are only £34?!
The brand writes..."The main objective of the shape-up jean is to highlight the best attributes of your future. Simply, they are created to give a better bum & longer legs - with body hugging and super stretchy slim fit to add both comfort & shape" SOLD - You had us a better bum! 
Order online or get into Blossom and try these wonder jeans on ladies, you will not be disappointed. But, don't just take my word for it, take a look at these reviews by our lovely Blossom ladies...
Bought these jeans just before Christmas, comfortable I don't feel as if I'm wearing anything. They don't dig into you just stretch love them. Just purchased another pair with zips on the ankle. Ladies these are a must have in your wardrobe.
These jeans are by far the most comfortable jeans I have ever worn
Lovely jeans, nice soft material. They feel so comfortable, will definitely buy more xx
Bought my jeans after a recommendation and I love them ! Wash them, hang them to dry and put them on ! Dress them up or dress them down ! Visit your mum in them .... only to find she's wearing them too !!! Love my genes !!! ( Jeans/genes - get it ? )
I can now say that I have finally found my perfect jeans! Yay!!
Hayley x